Today, the World's greatest father's are celebrating their special day. In other words, the world celebrating Father's Day 2011. But do you have any great father's day ideas? Well if not, then you stumbled upon something that might brighten up your Dad's day! But before that, allow me to just greet all the father's in the World "A Happy Father's Day", my dad included of course. So I was saying that I came up with a great father's day idea but what does it have to do with movies?
Personally, my father and I seldom talk, I wanted to express my love by hanging out with him more often, talk to him about life and things but I always feel a little embarrassed of doing those kind of things. To be honest I really don't know how to start a conversation with him. But I noticed something recently, every time he gets to see a movie on tv he always say something about it. That's just why I will take that chance to start a conversation with him. My initial  idea for father's day is that I'll ask him to go out in the movies (my treat of course). But he's been a little too busy in our food store that he actually ended up sleeping the whole afternoon. So as an alternative, I have compiled my Top 10 Father's Day movies list for him to choose from and we'll start the "2011 Father's Day movie marathon".
So here's the Top 10 Father's Day Movies!
Pursuit of Happyness (Hollywood – 2006)
Director: Gabriele Muccino
Starring: Will Smith, Thandie Newton and Jaden Smith.
Synopsis: Based on a true story about a man named Christopher Gardner. Gardner has invested heavily in a device known as a "Bone Density scanner". He feels like he has made these devices. However, they do not sell as they are marginally better than the current technology at a much higher price. As Gardner tries to figure out how to sell them, his wife leaves him, he loses his house, his bank account, and credit cards. Forced to live out in the streets with his son, Gardner is now desperate to find a steady job; he takes on a job as a stockbroker, but before he can receive pay, he needs to go through 6 months of training, and to sell his devices.
Okay That's quite of a dramatic movie up there but then it's worth it, coming right next to that is an Anime movie about the ultimate dysfunctional family! This movie's fun.
Tokyo Godfathers (Japan/Anime – 2003)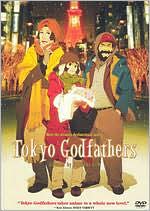 Directors: Satoshi Kon, Shôgo Furuya
Starring: Toru Emori, Yoshiaki Umegaki and Aya Okamoto.
Synopsis: Christmas in Tokyo, Japan. Three homeless friends: a young girl, a transvestite, and a middle-aged bum. While foraging through some trash, they find an abandoned newborn. Hana, the transvestite with delusions of being a mother, convinces the others to keep it overnight. The next day, using a key found with the baby, they start tracking down the parents, with many adventures along the way.
There's actually quite of an action on the film but nothing beats Korea's "I Am a Dad" movie.
나는 아빠다: I Am A Dad (Korean Movie – 2011)
Directors: Jeon Man-bae, Lee Se-yeong-II
Starring: Kim Seung Woo, Son Byung Ho, Choi Jung Yoon
Synopsis:Corrupt detective Han Jong Sik (Kim Seung Woo) takes care of a gang and gets kickbacks to save his daughter. One day he gets news from the organ transplant coordinator that they have found a heart for his daughter (kim Sae Ron). However, he finds out the donor is magician Na Sang Man (Son Byeong Ho) who he put false charges over and was in jail. Sang Man lost his young daughter and wife and became a vegetative state himself. Jong Sik guesses he wouldn't allow the transplant so he plans a way to get rid of him. Just as Sang Man is about to go over in the hands of a gang and get surgery, he realizes the plan and disappears with Jong Sik's daughter.
Oh, from the freshest movie on this list let's go back into the old good times of the 80's with the hit family comedy "Three Men and A Baby".
Three Men and A Baby (Hollywood – 1987)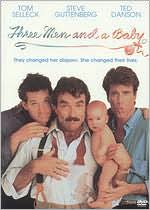 Director: Leonard Nimoy
Starring: Tom Selleck, Steve Guttenberg and Ted Danson
Synopsis: Three bachelor friends – architect Peter, artist Michael, and actor Jack are sharing an apartment in Manhattan. After Jack goes filming in Turkey his two flatmates find his baby daughter – which Jack doesn't know about – left outside their door. The two are left to look after the baby, and realise how difficult this can be. How would this baby change the life style of these confirmed bachelors?
On the fifth spot is a hit Animated classic – Disney's The Lion King!
The Lion King (Disney/Hollywood – 1994)
Directors: Roger Allers, Rob Minkoff
Starring: Matthew Broderick, Jeremy Irons and James Earl Jones.
Synopsis: A young lion prince is born in Africa, thus making his uncle Scar the second in line to the throne. Scar plots with the hyenas to kill King Mufasa and Prince Simba, thus making himself King. The King is killed and Simba is led to believe by Scar that it was his fault, and so flees the kingdom in shame. After years of exile he is persuaded to return home to overthrow the usurper and claim the kingdom as his own thus completing the "Circle of Life".
From an enthralling animated  journey which broke every hearts, let's cheer up with an Eddie Murphy comedy in Daddy Day Care movie.
Daddy Day Care (Hollywood – 2003)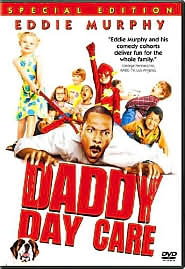 Director: Steve Carr
Starring: Eddie Murphy, Jeff Garlin and Anjelica Huston
Synopsis: In the comedy Daddy Day Care, two fathers lose their jobs in product development at a large food company and are forced to take their sons out of the exclusive Chapman Academy and become stay-at-home fathers. With no job possibilities on the horizon, the two dads open their own day care facility, "Daddy Day Care", and employ some fairly unconventional and sidesplitting methods of caring for children. As "Daddy Day Care" starts to catch on, it launches them into a highly comedic rivalry with Chapman Academy's tough-as-nails director… who has driven all previous competitors out of business.
Of course, if you want to watch a movie with your Dad it has to be action packed. So here's one of my recommendations! Then simply sneak in a cheesy line to your Dad, "Hey, son what movie you have in there?".Then reply "My Father is A Hero"!
My Father is A Hero (The Enforcer) (1995)
Director: Corey Yuen
Starring: Jet Li, Anita Mui and Yu Rongguang
Synopsis: The amazing Jet Li plays a cop whose job keeps him from attending his son's junior kung fu competitions. When sent undercover to infiltrate the gang of a brutal mob boss, his arrest–part of his cover story–exposes his son to humiliation in school. Meanwhile, his wife falls deeper into illness. The Enforcer is a classic Hong Kong blend of dazzling kung fu action and outrageously sentimental subplots. Yet as silly as some situations may seem (and let's be honest, they aren't any more ridiculous than your average Sly Stallone or Arnold Schwarzenegger movie), they're never boring, and when the spectacular fights begin it doesn't matter–Jet Li's stunning skill and natural charisma make him magnetic. Anita Mui, costarring as a police detective tracking Li down, gets to do her share of fighting as well. In the finale, father and son team up for a battle as funny as it is spectacular.
I'll Be There (Philippines – 2010 )
Directed by: Maryo J. Delos Reyes
Starring: Gabby Concepcion, Kc Concepcion and Jericho Rosales.
Synopsis:The story revolves around Maxi dela Cerna, a young, aspiring New York-based fashion designer who returns to the Philippines shortly after her mother's death to find her father. She had been swindled by her ex-boyfriend and hopes to pay off her debts by selling the piece of provincial land that her parents co-owned. But this means spending time with her father whom she hates for walking out on her and her mother 15 years ago. As the uptight and guarded Maxi struggles to immerse herself in farm life and deal with a father she despises, she crosses paths again with Tommy, her childhood friend, now an architect who is trying to heal from his own mistakes in the past with his 7-year-old son.
Would you care for another pixar animated film? Certainly YES!
Finding Nemo (Disney/Hollywood – 2003)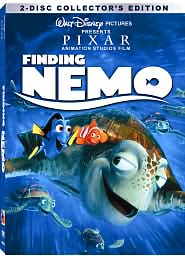 Directors: Andrew Stanton, Lee Unkrich
Starring: Albert Brooks, Ellen DeGeneres and Alexander Gould
Synopsis: A father-son underwater adventure featuring Nemo, a boy clownfish, stolen from his coral reef home. His timid father must then travel to Sydney and search Sydney Harbour to find Nemo.
Lastly, let me present to you a Brad Pitt movie that will tear your hearts apart!
The Tree of Life (Hollywood – 2011)
A fantasy drama about  a lost soul in the modern world, seeking answers to the origins and meaning of life while questioning the existence of faith.
Starring: Brad Pitt, Sean Penn, Jessica Chastain and Fiona Shaw.
Directed by Terrence Malick
At the end of the 1960's in Texas, Jack O'Brien (Sean Penn), the the eldest of three brothers, just lost his younger brother. And he remembers his childhood. The Tree of life traces the evolution of an eleven-year-old boy in the Midwest. At first all seems marvelous to the child. He sees as his mother (Joanna Going)does, with the eyes of his soul. She represents the way of love and mercy, where the father (Brad Pitt) tries to teach his son the world's way, of putting oneself first. Each parent contends for his allegiance, and Jack must reconcile their claims. The picture darkens as he has his first glimpses of sickness, suffering and death. The world, once a thing of glory, becomes a labyrinth. Framing this story is that of adult Jack, a lost soul in a modern world, seeking to discover amid the changing scenes of time that which does not change: the eternal scheme of which we are a part. When he sees all that has gone into our world's preparation, each thing appears a miracle — precious, incomparable. Jack, with his new understanding, is able to forgive his father and take his first steps on the path of life.
This post is a tribute to all the Dad's in the world! If you have a Dad – kindly share.